Year 11 Mock Interview Day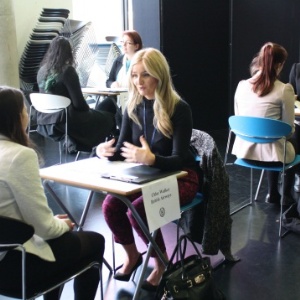 Year 11 students at Uxbridge High were under the spotlight on Tuesday 20th January 2015 as they practised their self-presentation skills in front of a host of local and National employers.
Over 40 employers from a number of organisations including: Coca-Cola, Cisco Systems, GlaxoSmithKline, British Airways and Tesco spent the day at UHS as part of a Mock Interview Event co-ordinated by the school's Work Related Learning Officer, Mrs Kindley-Deeks.
After spending time in PHSE/Citizenship lessons looking at CVs, application forms and Interview techniques, students had to prove that they could "talk the talk and walk the walk" when faced with their own 1-to-1 interview.
Mrs Kindley-Deeks said of the day, "I could not be more proud of our students here at UHS, they have equipped themselves well and considered everything that we have discussed in our lessons. The feedback from the interviewers on the day was fabulous. I know the students have found this to be a positive and rewarding experience; in fact they are still talking about it".
Kathryn Baddeley from Cisco Systems attended the event for the first time this year. She had the following to say about the day: "It was great to take part in the recent mock-interview day for Year 11 students. The young people had obviously thought carefully about their appearance for interview and tried to prepare answers to interview questions. It was a very well organised event and I believe all of the young people would take away something constructive to work on, ready for the real thing."