Assemblies and Tutor Times

Assemblies and tutor times are very important in the daily life in Uxbridge High School.
Year assemblies are held on the following days from the start of school (different for each year group - see Our School - the school day) until 8.45am:
| | |
| --- | --- |
| Year 7 | Monday |
| Year 8 | Tuesday |
| Year 9 | Wednesday |
| Year 10 | Thursday |
| Year 11 | Friday |
The assemblies are hosted by the head of learning and guidance leader. Members of the leadership team and curriculum leaders present the theme for the week. There are various and interesting themes each week e.g. global awareness; tolerance; kindness; personal safety; learning styles; science matters; World Book Day and our PROUD values.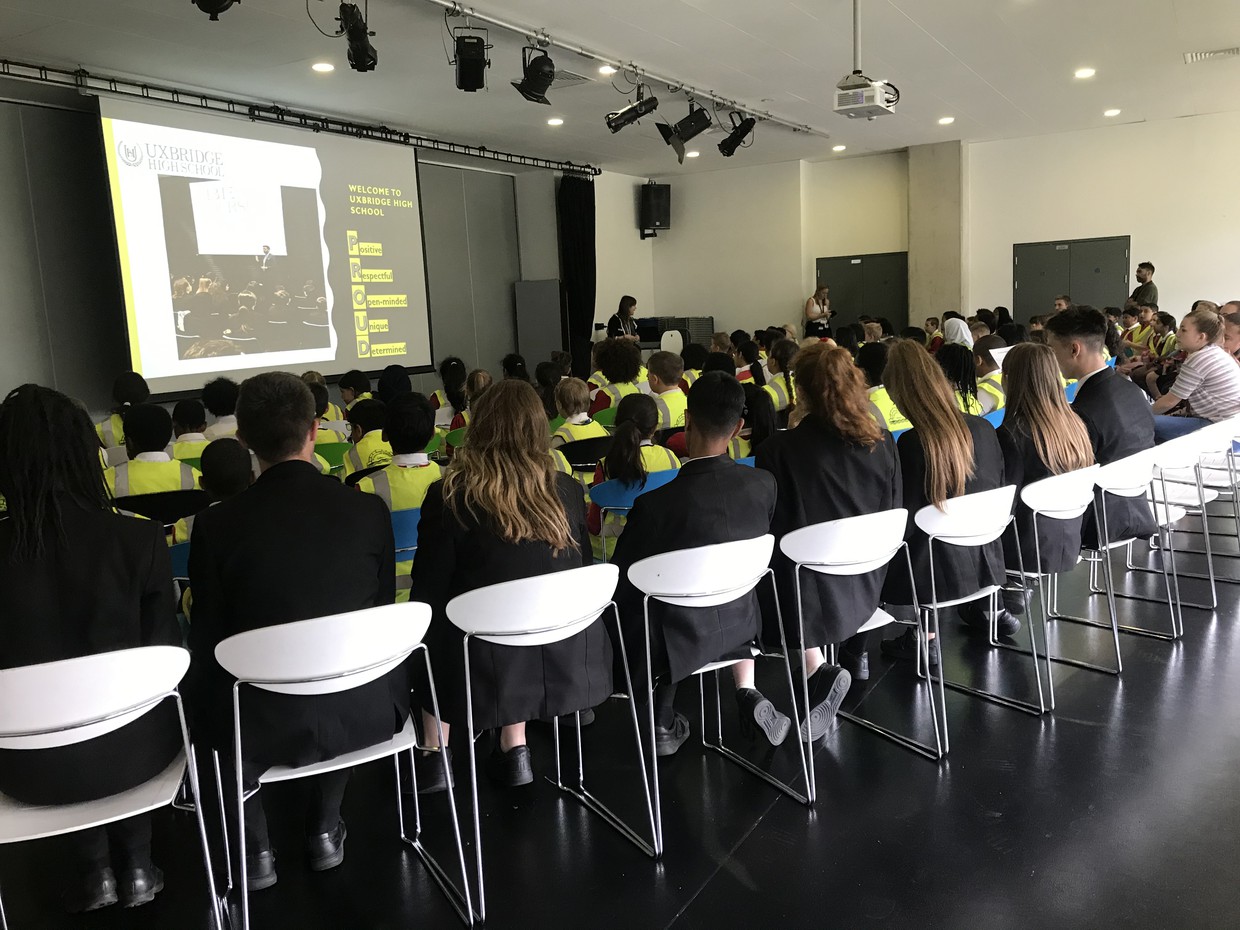 The house leader board is presented showing the number of character credits and behaviour points of the houses accumulated from the beginning of year. A trophy is awarded to the best form of the week, commendation for the form for best attendance and prizes for the student with the most character credits.
When you do not have an assembly, the day begins with tutor time from the start of school until 8.45am and there is a calendar of activities for every morning. These activities include uniform and equipment checks, attendance and punctuality discussions, academic skills sessions, transition sessions, literacy and numeracy challenges, news club and PiXL Edge. Once every fortnight you will also take part in a citizenship lesson during an extended form time period.
PiXL Edge at UHS
PiXL Edge will help you to develop the (LORIC) attributes listed below:
Leadership;
Organisation;
Resilience;
Initiative;
Communication.
LORIC are skills that support your learning and personal growth, helping you to develop the skills desired by employers that are necessary for future success.
PiXL Edge has three levels of challenge – apprentice, graduate and masters. It is designed so that you start on the apprentice level in Year 7. You should aim to complete this level by the end of Year 8. In Years 9, 10 and 11 you will then work towards the graduate level. Some students will go even further in Years 12 and 13 to complete the masters level. In order to complete the apprentice level in Year 7, you must complete two activities for each of the LORIC attributes. Becoming an activity member of the student council is an example of an activity that could be completed within the 'Leadership' category of the PiXL Edge. Your form tutor will tell you more about how to achieve the PiXL Edge in September.
The completion of each level leads to a recognised qualification from NCFE and a digital badge for employers to view on your CV.
Citizenship at UHS
In citizenship, you will learn about the world around you and how you can become a good and well-rounded individual. Citizenship in UHS is taught to you during tutor time once a fortnight and helps you to develop the knowledge and understanding that you need, to play a full part in a modern society as an active and responsible citizen of the UK. You will learn about politics, human rights, the law and the economy, as well as the skills of active citizenship, such as taking an active part in the community and charity. Additionally, citizenship covers all parts of personal, social, health and economic education, as well as relationships and sex education to ensure you gain the skills and knowledge to live in a modern society.
In Year 7, you will promote a creative anti-bullying campaign, explore your personal strengths in careers, learn how to build relationships with friends and family, understand the role of the police force and investigate what it means to be 'British', all helping to create a firm foundation for later years. We look forward to seeing you in September!